Hello guys! Today is Wednesday, so obviously that means Top 5 Wednesday! Top 5 Wednesday was created by Lainey from Gingerreadslainey and today's topic is Top 5 Favorite Required Reading. At first, I thought I wouldn't do this one because I has troubles thinking of books that were required reading that I actually liked. Then, when I started thinking about it, some of my favorite books were required reading. I'll be listing them from least favorite to the one I've loved the msot, but just know that I've completely loved all of these books.
5. Shooting an Elephant by George Orwell
This is a collection of essays written by George Orwell and it was the first thing I ever read by him. I remember reading the first two essays and just falling in love. I read all the essays so quickly and I knew immediately that I will have to check out his other books, because this was just amazing.
4. Like Water for Chocolate by Laura Esquivel
This book was just heartbreaking in every single way. It follows a girl named Tita, who falls in love with a man called Pedro, but there is a tradition that since she is the youngest daughter, she won't marry and instead take care of her mother. Pedro marries her sister and chaos ensues in so many ways. It is a really beautiful tale, with the use of magical realism. This is a book that I definitely want to re-read pretty soon!
3. To Kill a Mockingbird by Harper Lee
This is a book that I believe many people have had to read for school, so I am pretty sure you're familiar with the plot of the book. If you're not, it follows a young girl named Scout, who lives in a little town where suddenly, a black man is wrongly accused of raping a white girl. This book had so many important messages and details about racism, and feminism and family and just… everything. It taught me so much. It is one of my all time favorite books. If you haven't read it, do, and check out the film as well, because I think it was a pretty good adaptation!
4. Maus by Art Spiegelman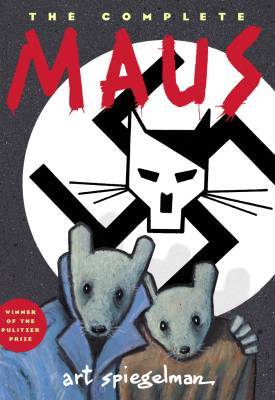 This is a graphic novel about World War 2. In this graphic novel, the Jews are portrayed as mice, and the Nazis are portrayed as cats. At first, when I started getting in to the novel, I didn't understand why that was, but as I continued reading, I realized there are so many benefits to writing the graphic novel that way. I loved that it was a true story about Art's father, but it wasn't just a story about war, it was also about the relationship between Art and his father, which I thought was really neat.
1. Crime and Punishment by Fyodor Dostoyevsky
My all time favorite classic. This book… Just wow. It follows a man called Raskolnikov, who is desperate for money. He commits murder and steals as result of being so desperate, but he tries to convince himself that he did this for the better of humankind. It was just such a fascinating read, and how Fyodor made me sympathize with Raskolnikov even though he was obviously sick. I mean, it was just perfectly constructed, and I'm sad this isn't as popular as other classics, because it deserves more hype. I love this book.
And that is it for this Wednesday! If you have your own list up on a blog or on a youtube channel, comment and I'd love to check it out!
Thank you, and I hope you enjoyed!